Recent performance benchmarks gathered from an actual WAAS PoC deployment. Feel free to Email me rjb@mti.com for more details. Unfortunately I can not publish everything due to the need to protect the innocent. All of the details below (IP addresses, locations, etc…) have been changed but the performance benchmark data is actual data collected from and actual deployment.
Deployment details:
Core:

Core WAE: 172.16.1.10
Central Manager: 172.16.1.20
CIFS server: 172.16.1.20

CIFS share created \\172.16.1.30\waas located at d:\waas

Default gateway: 172.16.1.254
Net mask: 255.255.255.0
DNS server: 172.16.1.3

Edge:

Edge WAE: 192.168.1.10
Client machine: 192.168.1.100

CIFS share \\172.16.1.30\waas mounted on z:
Topology:
Initial observations:

Some larger problematic .xls files to the WAAS accelerated file share and asked the Austin user to test the performance. The initial impression and observations were the following:
Opening and saving a large 4MB PowerPoint:

What took 50 seconds to open now takes around 2-3
13MB adobe file open 2 sec, took 2min pre-WAAS
35 seconds for 4.3MB excel, now 2s
2s for 8MB excel file
Benchmarks:

Two benchmarks were completed. The Cisco MS office benchmark and a file copy and create benchmark.
Office benchmarks: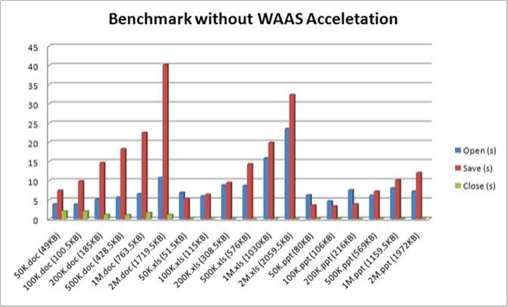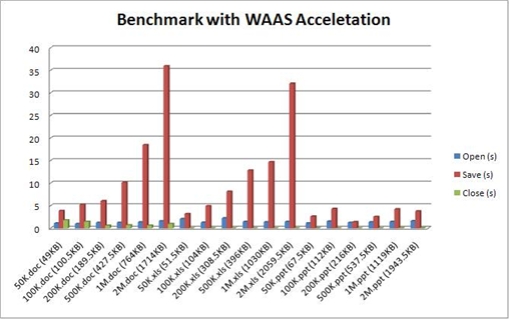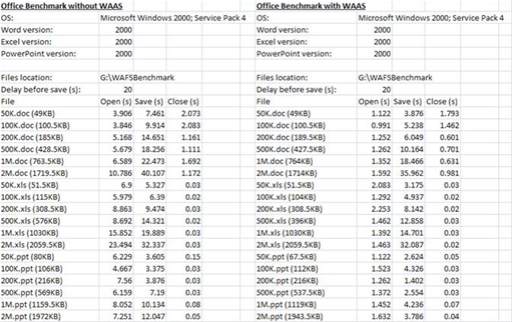 File copy and creation benchmarks: